Some co-workers and I were having a discussion yesterday about how many NFL quarterbacks are from the great state of Texas. Granted, it's a big place (2nd largest state to Alaska…if you count Alaska), but I thought that maybe California or even Florida would have produced just as much, if not more, NFL QB talent. I set out to do some research, and as any good investigative journalist would do, I went to Google. Turns out, ESPN's Adam Schefter already beat me to the punch. It's not as good as my article would have been, but it's still pretty dang informative. Enjoy.
Texas-bred QBs dotting landscape
Talent-rich state has produced 25 percent of current starters and several backups
Originally Published: September 21, 2012
By Adam Schefter| ESPN.com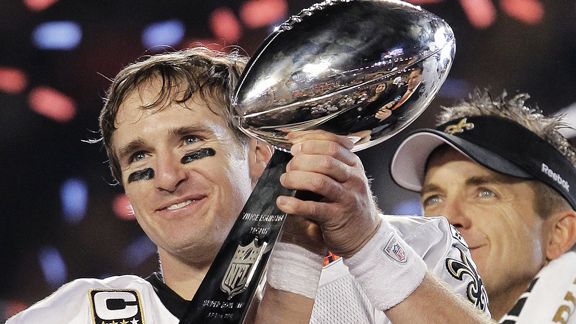 AP Photo/Julie JacobsonSuper Bowl XLIV MVP Drew Brees is just one of current NFL QBs the state of Texas has produced.
In almost in equal supply, Texas produces cattle, cowboys and quarterbacks. If it seems as though most teams start a quarterback from Texas, it's because they do.
Twenty-five percent of NFL teams now start a quarterback who either played high school or college football in Texas -- sometimes both. Another 10 quarterbacks who played in Texas are NFL backups, one snap away from starting. And that doesn't include Carolina's Cam Newton, who spent one year of junior college in Texas.
Texasused to be the main exporter of running backs. But somewhere along the way it shifted its emphasis, and now it exports quarterbacks.
In Week 2, Houston Stratford High School's Andrew Lucksquared off against Colleyville Heritage High School's Christian Ponder. This weekend, Copperas Cove High School and Baylor's Robert Griffin IIIsquares off against Katy High School and TCU's Andy Dalton. Almost every weekend brings a meeting of Texas quarterbacks.
If it's not Luck versus Ponder or Griffin versus Dalton, then it can be Westlake High School's Drew Brees, Big Spring High School and Texas A&M's Ryan Tannehill, Highland Park High School's Matthew Stafford, Burges High School's John Skeltonor Stephenville High School and University of Houston's Kevin Kolb. On it goes.
The list of Texas-bred backups also is compelling: Texas (Texarkana, Texas) High School's Ryan Mallett, Jim Ned High School's and Texas' Colt McCoy, Forney High School's Caleb Hanie, Westlake High School's Nick Foles, Ennis High School and Texas Tech's Graham Harrell, Jacksonville High School's Luke McCown, Southlake Carroll High School's Chase Daniel, Robert E. Lee High School's Matt Flynnand Southlake Carroll's Greg McElroy.
Texasalways has placed so much emphasis on football. But in recent years, it began emphasizing throwing the football even more. Not unlike young pitchers in California, Texas quarterbacks can and often do throw year round. They are tutored to throw more than ever. They leave high school more prepared than ever, play in college faster and enter the NFL more pro-ready than ever.
It's the reason we're seeing more and more young quarterbacks start -- and make their mark -- more quickly. Much of it can be traced back to the second most populous state in this country.
Texasdoesn't just breed cattle. It now breeds quarterbacks.